Save time
Pre-population of the form allowing users to focus on the information gaps
Reduce errors
Clear indication of where errors exist plus data field validation
Easy to use
A simple user interface that anyone can use
Live
Enjoy a simplified General Tenancies Agreement
Our new Form 18a process is simpler and easier to complete without any double-input of information or cut and paste. The end result is the legally compliant Form 18a, ready to print or save and send.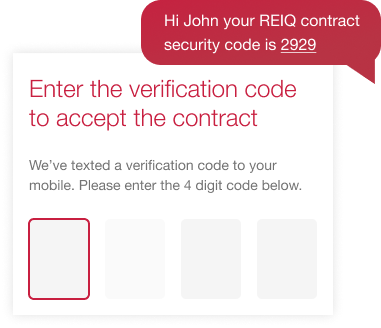 Coming Soon
Simplify the process with one-touch execution.
A world first digital execution of tenancy agreements as smart contracts on the blockchain enabling execution of the agreement by all parties with the touch of a button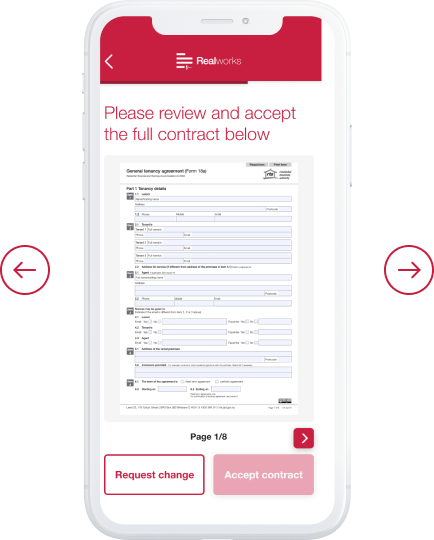 Coming Soon
Give your tenants a simple mobile signing experience
Put the tenancy agreement in the palm of your tenants with a user experience that summarises the important information, giving them more comfort in executing. Realworks will automatically email the form to the tenant and execute the agreement using two factor authentication, thereby, verifying the contact details on the form.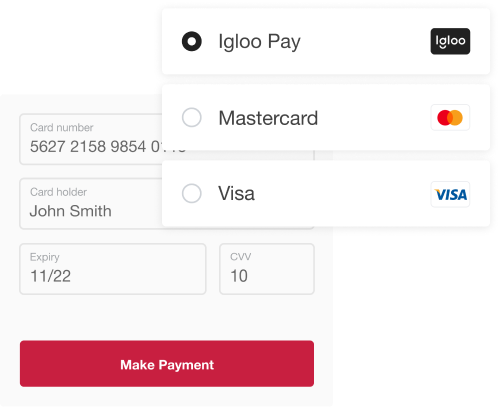 Coming Soon
Streamline payments
Using the latest payments technology, Realworks will be able to automate and process payments related to a tenancy agreement making the lodgement of bond and payment of rent a hands-off experience for property managers.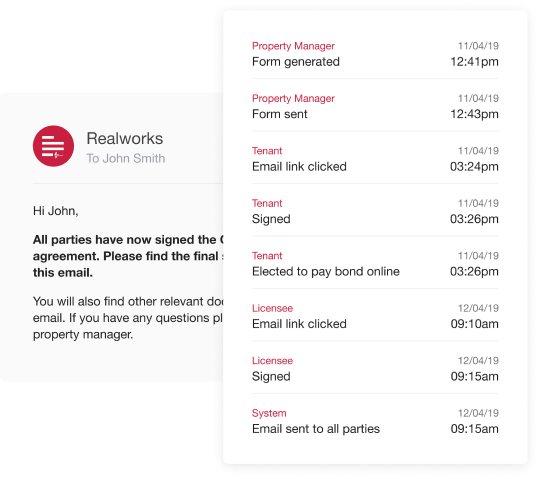 Coming Soon
Reduce risk with automated register of events
Future enhancements and integrations will allow all events related to the tenancy agreement to be stored against the smart contract. This provides an irrefutable source of truth for every interaction relating to the agreement, giving property managers peace of mind about what has happened and shaving hours off record preparation for disputes.
"REIQ is about to roll-out of a world-first project that will see residential tenancy agreements transformed into digital smart contracts, including automated payments associated with the agreement."

Josh Callaghan
General Manager, REIQ
Try the new, simpler Form 18a process Today
Frequently asked questions
What & Why
What is Next Generation forms (Next Gen)?
Legal
Is it legal and compliant?
How often are the forms updated?
Will the digital copy legally hold up in court?
Addition of clauses, annexures, and attachments
Actions
What systems are supported? Can I use my phone?
Can I open or work on more than one form at a time?
Support
If there is an issue, who do we contact?
Who do I talk to about my Realworks subscription or advice?
Can we use DocuSign with the new Form?
Can you add Attachments, such as by-laws?
Where is the time-saving?
Will the new form be saved as a Template or Form?
Can we update Agency information?
Can I print out a blank Form 18a?
Where is the completed form saved?
How do I add another tenant?
If I save and exit so that I can complete the form later, will the data I've input still be there?
Does the Form push new information back to the CRM?